04-15-2014, 07:04 PM
Roger Ek
Senior Member


Posts: 413
Joined: Dec 2013
Reputation: 45
Nevada Ranch News
The BLM abrogated any legitimacy when they broke their contract with the ranchers and began driving them all out of Southern Nevada. There is one ranch left and it is being defended.
-break-
Hi All,
I finally got to talk to my wonderful husband around lunch time today. It's hard to say what is best to do at this point. He doesn't want to weary the movement. Others who are still there are asking for help from those closer to NV. The protesters have dispersed but the militias are still sticking around. The numbers of people there are staying pretty static. Some coming to replace those leaving. There are a few Patriot camps that exist. Each camp is autonomous and they are cooperating between themselves well, with security as a high priority. For example, while I was on the phone with him a large furniture truck turned up the road he was on and headed toward the Bundy's. I can't imagine that the Bundys have gone furniture shopping recently so everyone went into high alert and checked the truck for hidden personnel. As far as I know the truck moved on without incident. The patriots there are staying vigilant and wary of everything. Helicopters and drones continue to be seen. Chuck Baldwin
http://chuckbaldwinlive.com/
, Stewart Rhodes the founder of Oath Keepers
http://oathkeepers.org/oath/
and Sheriff Mack
http://www.sheriffmack.com/
arrived yesterday and are there right now standing with the Patriots who are still holding the line.
I asked Jerry what is needed there. He said "If you're going to come there have been a few tents and some supplies dropped off for the cause. You need to gear up and bring clothes to keep you cool in the day and warm at night. It was teeth chattering cold last night. If you have fatigues wear them, bring food if you're driving. There are many former marines on site and they are as dedicated as ever. Jerry says he's just so proud of all of them who are ready for anything at any minute. If it's in your heart to come, then come! There's safety and power in numbers." They have Lion Hearts!
They are still trying to save the new born calves left to starve by the BLM. Jerry says they are worse than Nazis, they are perverse in the way they have treated the poor animals caught in the middle of all of this. Some of the Bundy Grandchildren have found a mass grave that the cattle shot and killed by the BLM have been dumped into. Jerry will be sending pictures of the slaughtered bodies later on that I will share. (Where is PETA?)
For now please keep praying, keep sending and sharing. The better we communicate in all venues the better. The government as always likes to do it's dirty work in the dark. We have to continue to shine a light on what is going on and on what they are doing. Thank you to all of you who have called me from all over the country with encouragement and prayer. I know you all have Lion Hearts as well!! God Bless you all!!
Yours Truly,
Sue D.
04-18-2014, 12:51 PM
Islander
Senior Member


Posts: 2,543
Joined: Dec 2013
Reputation: 145
RE: Nevada Ranch News
And supposedly all this might of the US government for 1.1 million dollars, something does not add up.
04-18-2014, 09:40 PM
(This post was last modified: 04-18-2014 09:41 PM by TANSTAF1.)
TANSTAF1
Senior Member


Posts: 650
Joined: Dec 2013
Reputation: 23
RE: Nevada Ranch News
You forgot the millions Harry and his sons will make if their deals got thru. If you add that in, then it adds up.
---
ₒₒₒₒ ©(¯õ¿õ¯)® ₒₒₒₒ


Breitbart was here
Veritas vos liberabit
04-19-2014, 11:36 AM
Islander
Senior Member


Posts: 2,543
Joined: Dec 2013
Reputation: 145
RE: Nevada Ranch News
Maybe Obama and the thuggish BLM awoke a sleeping giant
http://www.sltrib.com/sltrib/politics/57...l.html.csp
Western lawmakers gather in Utah to talk federal land takeover
'It's time' » Lawmakers from 9 states gather in Utah, discuss ways to take control of federal lands
04-19-2014, 09:19 PM
woodcanoe
Senior Member


Posts: 3,175
Joined: Dec 2013
Reputation: 189
RE: Nevada Ranch News
Labeling It's Own Citizens as Domestic Terrorists - The Ultimate Betrayal by the Federal Government
The "progressive slime bag" and liberal hero Harry Reid has referred to those American citizens who went to the Bundy ranch and helped the family take a stand against an overzealous government as Domestic terrorists! My how quickly these liberals who can feel others pain, go to the hateful language and name calling. Are they so stupid and ignorant that they know no other way to talk? American citizens have every right in the world to disagree with government....and the politicians who control it. Lets look at what happened there.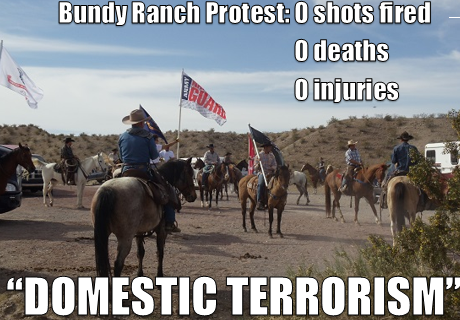 The accounting:
0 shots fired, 0 deaths and 0 injured!
And WE are the domestic terrorists?
........"When a young man or woman joins the United States military, one of the first things they do before even being shipped off to boot camp is take the loyalty oath. "I (state your name) do solemnly swear to uphold and defend the Constitution of the United States of America against all enemies, foreign and domestic, and I will bear true faith and allegiance to the same." The oath of enlistment goes on to say that the service member will follow orders of the president and the officers appointed over them per the regulations of the uniformed code of military justice. Most service members, at least I hope anyway, understand that there are illegal orders, and any order that goes against the Constitution is, in fact, an illegal order..........This oath means something to military personnel because most of us joined to defend the rights and liberties of all Americans, even those that don't share our views. Sadly, many people have been inundated with the belief that the Constitution is an oppressive document that stands in the way of government creating the perfect paradise. In fact, in a report called Rightwing extremism: Current economic and political climate fueling resurgence in radicalization and recruitment the government calls anyone who refers to the Constitution and the limits of government power a domestic terrorist. Anyone who owns a gun is a terrorist, anyone who didn't vote for Obama is a racist terrorist and anyone who is buying more than seven days of food at a time is now even referred to as a potential terrorist. Veterans are potential terrorists, probably because the government fears them finding out how they have been used, abused and lied to. Also, those who hold anti-abortion views are domestic terrorists"........
These are our highest elected officials, sworn to defend the Constitution, who are calling us Domestic Terrorists......simply because we disagree with those in power? My how they so freely utter that despisable rhetoric!
..........."Many of you may be wondering what the significance of all of this is. Harry Reid just referred to the Bundy ranch protesters as domestic terrorists and claimed that he was told a special task force is being set up to "deal with them." A task force, mind you that is not loyal to the U.S. Constitution, but has likely been beaten down with the same lies and propaganda that is published in that fallacious report"..........
......."How did we get to the point where a sleazy politician like Harry Reid, who for days now, reports have been surfacing exposing his involvement in this federal land grab, can get away with it and call average citizens domestic terrorists? I will tell you how, but you are not going to like it America. You became fat, lazy, and uninterested in defending the very liberties that were passed onto you from previous generations. You let the politics of envy, employed by selfish radicals and their lies; beat you into submission out of fear of appearing "uncompassionate" or uncaring. You let the politics of fear overwhelm your senses as little by little mental associations were created between what you fear the most and the unknown, until the point came when you let the government convince you that your neighbor shouldn't be trusted if he questions the motives of big government. In other words America, you went to sleep and passed on your responsibility to someone else who didn't share your same values.
The hour is later and much darker than most care to know. Many in America see no problem with the federal government that has the intestinal fortitude to surround one man and his family with three hundred armed troops, and then lie by claiming it's about taxes and turtles. There are so many other ways this situation could have been dealt with folks, especially if Cliven Bundy was truly in the wrong. They intentionally set out to spark a confrontation so they could identify the resistors as domestic terrorists. Everything they need to eliminate the opposition is written into law or policy. The Patriot Act, The National Defense Authorization Act, both give the government broad powers when dealing with domestic terrorism. Some of us realized many years ago that someday those powers would be turned on us; others went to sleep, allowing the government to classify us as domestic terrorists for being concerned about such a thing...........This is the ultimate betrayal to all those who served in this nation's uniform. They swore to defend the liberties of American citizens, and some gave their lives doing so while others showed up at the Bundy ranch to do it again. There is nothing in the Constitution that grants the government the right to do anything outside of its delegated authority folks. I know one thing for certain, sicking 300 armed federal agents on one man, from an unaccountable bureaucracy, is not in the job description of the federal government. If you are a liberal and can't see this, then there is no hope for you. If you can't understand that this power will turn on you the minute you disagree with them, then you get what you deserve".........
Harry Reid Trashmouth scum
I predict that "Dirty Harry" and the rest of his filthy ilk will live to see the day when they have to eat those words. If the Founders were here to see this, there would have been very drastic action long before now, and the progressive agenda is exacly what they feared we might have to deal with one day. That day is here and Reid, Feinstein, Pelosi, Obama, Holder and a whole long list of others are leading us down the wrong path. The time to fix it is now!
WC
04-20-2014, 06:35 AM
Islander
Senior Member


Posts: 2,543
Joined: Dec 2013
Reputation: 145
RE: Nevada Ranch News
Seems to me that when a countries citizens stood up to a tyrannical government all the progressives called them heros, a real Arab Spring. When it happens to Harry he calls them terrorists.
I think Al Gore called for an American style Arab Spring, be careful what you wish Al. And let's not forget the OWS crowd who were lauded by the likes of Liz Warren, Pelosi...
04-22-2014, 07:16 AM
Underminer
Senior Member


Posts: 1,230
Joined: Dec 2013
Reputation: 32
RE: Nevada Ranch News
04-22-2014, 07:28 AM
Abacus
Senior Member


Posts: 330
Joined: Dec 2013
Reputation: 25
RE: Nevada Ranch News
Those saying Bundy is breaking the law aren't paying attention and only have a small part of the story. Read the whole history and I'll bet you'll come to a much different conclusion.
04-22-2014, 09:01 AM
Howard Roark


Unregistered

RE: Nevada Ranch News
Had the Bundy Family renamed their ranch
BENGHAZI
, the United States government would have avoided the place and never shown up!
04-22-2014, 09:25 PM
woodcanoe
Senior Member


Posts: 3,175
Joined: Dec 2013
Reputation: 189
RE: Nevada Ranch News
John Locke was an English philosopher and physician regarded as one of the most influential of Enlightenment thinkers and known as the "Father of Classical Liberalism" Considered one of the first of the British empiricists, following the tradition of Francis Bacon, he is equally important to social contract theory. His work greatly affected the development of epistemology and political philosophy. His writings influenced Voltaire and Rousseau, many Scottish Enlightenment thinkers, as well as the American revolutionaries. His contributions to classical republicanism and liberal theory are reflected in the United States Declaration of Independence.
From John Locke's Second Treatise on Government: ........
"But if a long train of abuses, prevarications, and artifices, all tending the same way, make the design visible to the people, and they cannot but feel what they lie under, and see whither they are going; it is not to be wondered, that they should then rise themselves, and endeavor to put the rule into such hands which may secure to them the ends for government was at first erected
".......
John Locke article
The explanation of that paragraph in modern language is as follows: ......."The phrase "long train of abuses" is famous not just for Locke's usage but because it made its way into Thomas Jefferson's "Declaration of Independence" from 1776. In this quote Locke was addressing the claims of critics that said the people's right to rebel against a wayward sovereign would lead to frequent and invalidated rebellions. He believed that the people knew better than to follow a discontented few or to put their safety and comfort aside to pursue a rebellion without legitimacy. He had confidence in their ability to observe when their ruler was no longer adhering to the bonds of the social contract formed between the people and the government. Any such rebellion would occur after a long series of problems and would only seek to reinstate the government that the people initially created. In most historical cases, the people did not try to erect a government that was vastly different from the previous one.
The influence that John Locke's writings had upon the founders of this great nation was profound, and can seen all over the writings of those gentlemen. Those familiar with the United States Constitution are well acquainted with the "enumerated powers" that are granted to the Federal government. These are all the powers that the Federal government is allowed to have, any not specifically mentioned, are left to the people and the states.
To say the least, all three branches of the federal government have drastically exceeded those enumerated powers. All three branches have grabbed all the powers that they can grab, and they will grab more next year, than they did last year. As John Locke said, and the Founders wrote, "We the People" have the right to change that, whenever we see the need.
What we are seeing at the Bundy ranch is the beginings of a movement, that will ultimately involve millions of honest hard working American Citizens who want nothing other that their constitutionally guaranteed freedoms returned, and to be left alone by government. The founders intended for this to happen, if need be, and I believe we will be witness to exactly that, whatever actions it may take.
You don't have to believe me, and I promise I did not make this up, anyone interested can google and find all of the info above in my post, and a whole lot more on that very issue besides the brief quotes I listed.
There is a very good reason for what is going on in the Nevada Desert, and it does NOT involve tortoises, or grazing rights, but rather is the start of an attempt to return Liberty to all Americans.
WC
User(s) browsing this thread: 1 Guest(s)