04-17-2016, 08:35 AM
Islander
Senior Member


Posts: 2,345
Joined: Dec 2013
Reputation: 136
RE: Commercial Fishing
We just had a local boat sink when the net full of fish shifted and put the stern quarter under flooding the boat. Luckily both father and son were able to get into the raft and were picked up by other boats in the area. They said it all they had time to do was make a distress call and kick the raft overboard from the cabin top.
04-17-2016, 08:54 AM
woodcanoe
Senior Member


Posts: 2,973
Joined: Dec 2013
Reputation: 185
RE: Commercial Fishing
When I was a kid, in the 50's all the seining was done by "shutting off" a cove when the fish were in it. Then they set out the "pocket" (small purse seine) and did it like this.
This version required a lot of manpower and several dories or other small boats. Dories were used for carrying the nets as they had a huge capacity. Every stop seiner had a string of dories. When fish were spotted nearing a cove the seiner would go anchor his dories in the cove. This act got the net where it was needed and........."claimed" that cove at that particular time. Nobody else would touch it as long as those dories were there!
I was working at the factory in Stonington, summers, when big time "purse seining" started around 1964 or so, thanks to the power block and power roll! The guys from Stonington and Matinicus would use an airplane to spot the fish, then go and locate them later with their sonar rigs and surround them with the large purse seine. This required a lot of money as those large purse seines were not cheap to buy!
This is how the fish were unloaded from the boat at the factory.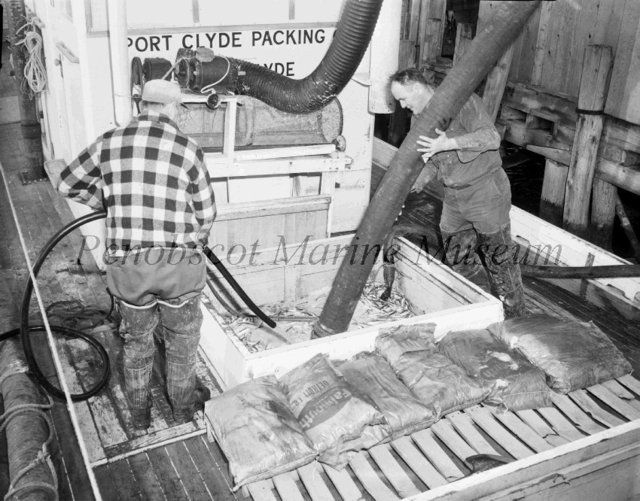 These "fish pumps" were 10" centifrugal pumps that were designed for use in municipal sewer systems. Aboard the boat they were driven off the main engine by a power take off. At the factory they were driven by three phase electric motors. Before this they were bailed with hand nets, a very slow process! This is the carrier "Delca" I think at Port Clyde. Man on the right is Clyde Peabody. Man back to is probably Milford Peabody as he ran her for years. Lots of water was added to the fish hold do the fish would NOT be damaged by the pump. I have seen huge dogfish come through these pumps without a scratch on them!
I have a theory based upon personal observation. In my youth all the fish were caught in coves with stop seines and weirs. Those fish were small, 5 to a can were big ones, often they were 8 to a can or once in a while "double rows" (two layers like Norweigans) were done.
Once purse seining started the fish were obviously larger, mostly 4 to a can and sometimes we would use oval cans which were larger than the quarter cans normally used. Often the tail would be cut off and packed into the can while the other 2/3 of the fish went into bait. Spawns were laying all over the tables and many women took spawns home to fry up as it was good to eat that way.
Even as a kid I could see that what the purse seiners were catching were the "broodstock"! As I watched all those spawns go to waste I knew in my heart that it was going to virtually kill the industry.....and it did!
In 1900 there were around 100 canning factories on the Maine coast. There are "zero" today. Of course environmental rules played a part too, but a cow man sells his steers, not his cows and it is easy to see why.
WC
04-17-2016, 09:39 AM
Islander
Senior Member


Posts: 2,345
Joined: Dec 2013
Reputation: 136
RE: Commercial Fishing
I remember my grandmother frying up spawn, most likely it was haddock spawn or some other ground fish , not my cup of tea but my brothers enjoyed it. There is still some stop seining going on, but the PFA's do not like it when you shutoff a cove. My son and one of the old timers shutoff a cove and had a pretty good haul a couple of years ago.
One of the big reasons we do not see herring inshore like we used to is because of the midwater trawl boats, IMO.
04-17-2016, 12:51 PM
Scout
Senior Member


Posts: 170
Joined: Apr 2016
Reputation: 13
RE: Commercial Fishing
We used to eat a lot of spawn when I was a kid. I don't remember what kind it was, but it was good fried up like in a patty with butter until golden brown on the outside. We ate a lot of conchs too.
http://marinelife.about.com/od/invertebr...Conchs.htm
We would steam the conchs out of their shells and eat them. I have had them cooked in butter with garlic as well and they are good that way. Damm, I am starting to get hungry! We even ate the spawn from the whore's egg in those days. My father had an offensive name he called that spawn. My favorite fish is greysole, browned in butter for two minutes max. For shelfish, fresh rock crab claws. One thing I learned was that about everything out of the sea is best fresh. None of it is any good old and that's something most people away from the shore do not know.
04-17-2016, 03:18 PM
Islander
Senior Member


Posts: 2,345
Joined: Dec 2013
Reputation: 136
RE: Commercial Fishing
Rock crabs, we cannot give those away. Once we start fishing we hang a crate off the town float. We throw the crabs in it for a few of the locals to enjoy. If you are interested I would be more than happy to let you know when there is a bunch in the crate, free for the taking. The boys had crates of them this winter, with a real good size, to bad there isn't any real market for them. In the red I think they got .50/lbfid them and were happy to be rid of them.
04-17-2016, 06:33 PM
Scout
Senior Member


Posts: 170
Joined: Apr 2016
Reputation: 13
RE: Commercial Fishing
I used to string them on the bait line in shedder season. I don't think it hurt and they stayed on good. Other times we would pop a claw off to save and then throw them back. You'd catch them later growing another claw. I don't think that is legal now as you have to take and kill the whole crab.
04-18-2016, 05:35 AM
Islander
Senior Member


Posts: 2,345
Joined: Dec 2013
Reputation: 136
RE: Commercial Fishing
Nope, the whole crab and nothing but. Sometimes we depending where the traps are we will get crabbed, traps are full of juvenile crabs, we just string a few crabs on the bait string and it seems to drive the other crabs away, and the shredders like them. We use skates as our primary bait, year round, occasionally we will double up with fresh herring, pogies and make real if we can catch enough.
04-18-2016, 08:21 AM
woodcanoe
Senior Member


Posts: 2,973
Joined: Dec 2013
Reputation: 185
RE: Commercial Fishing
Is there any crabmeat picking down in your area?

When I was last fishing, in the late 70's, in the summer I made more on crabs then I did lobsters due to the demand by the picking houses. Of course some years back the state got into regulating that little cottage industry and it looks to me like there is a lot less picking going on now, or it is being done by larger commercial operators. Lots of women used to make a few bucks doing this at home, of course mostly "under the table" (thus the regulations) but not sure what that industry is like today.

I used to catch what we called "picked toes" and if you handled em much you knew why they had that name. My bottom was just good crab ground in the summer!

Sometimes I miss not being on the salt water anymore though it was a lot of work as you know!

WC
04-18-2016, 09:43 AM
Islander
Senior Member


Posts: 2,345
Joined: Dec 2013
Reputation: 136
RE: Commercial Fishing
There is some meat picking but not enough , they can take about two crates a day. It is hard to find people to pick them, and most people just are not familiar with them. Dad says he would rather have crab then lobster! We do get some of the picky toes and from what I am told they are even better than the rock crabs. You are correct there used to be lots of wives etc who would pick the crabs to sell the meat. Now it just seems like to much work. So we will continue to fill the community crate, and give the few a treat they could not otherwise get. We do have one dealer that buys them for his restaurant/bar, but since we do sell our lobsters to him I would not ask him to buy our crabs.
Plus it is fun to give the old timers a treat and the few that appreciate them a treat. You have to have our permission to get the crabs, we have about 4-5 people that enjoy them.
We were talking about shrimp last night and when I first picked it was in 1969, Dad was building a new building so we picked them in my grandfathers shop, washed them in the kitchen sink and froze them in my grandmothers freezer, it would never be allowed today. And just for grins and giggles, dad paid .10/lb, sold in the shell 5lbs for $1 and the pickers got .25/lb.
User(s) browsing this thread: 1 Guest(s)